Discussion Starter
·
#1
·
I have a couple of hives with spotty brood. It doesn't look like pms. Also…not foulbrood….either a or e. All of the larvae look pearl white. The queen appears to return to frames and fill in the empties, so there is a mix of brood everywhere….eggs to emerging brood. The hives seem healthy with big populations and have been making swarm cells.
I guess it could be inbred or failing queens but the colonies seem to be doing so well.
I took a five frame split from one today and added a newly mated 'store bought' queen. I'm going to be interested to see how her brood looks…..in case it is some sort of comb laden plague or some sort of nurse bee parasite.
The first picture is the frame with bees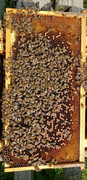 The frame with bees shaken off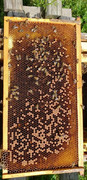 A closer image.