Discussion Starter
·
#1
·
Short little vid of a nice hive on my in-laws property. Old farmstead house. If they survived our harsh long winter they should have pretty good survivor genetics. So I plan on leaving them alone and just catching swarms.
I put up a used deep with 4drops of LGO zipped in a sandwich baggy, 2 old brood combs and the rest foundationless. Now all I need is the local beek to drop some pinched queens in my iso and I will have the so called irresistible lure. Funny thing as I was watching the activity I saw a mouse rip around the corner up the wall and in the same hole the bees are in. I don't know if it was its normal rout or I scared it into the hole. Maybe has a different rout in the wall. I doubt the bees would tolerate such visitors.
I tried some 1:1 sugar water with a drop of LGO no interest at all.
This old house is pretty remote. I go out there to target shoot and noticed them this spring.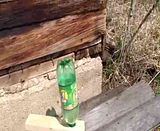 My catcher. I hope I don't have it too close but the trees to the south east look a little too shady (cool). The hole entrence is far bottom right just above the cement foundation.