Thought you might like to see the results.
I used 1/3 sheet-1/2 sheet or 2/3 sheet of rite cell foundation and partial foundationless sides.
-Clean &
reliably
well drawn partially foundationless frames on a
large scale
.
-Absolute stability in deep frames, for inspections, extracting, transportation and even cold weather when cold comb is brittle.
-Control over the amount and location of both worker sized cells and drone cells. Drones for queen rearing early spring and cut comb honey late summer.
Here are some photos.
When starting out, alternate solid sheets with partial sheets.
Glue in a wood skewer to keep foundation centered and to serve as a guide for bees to start comb. Just roll the skewer through a bead of wood glue and into the grove on your top bar.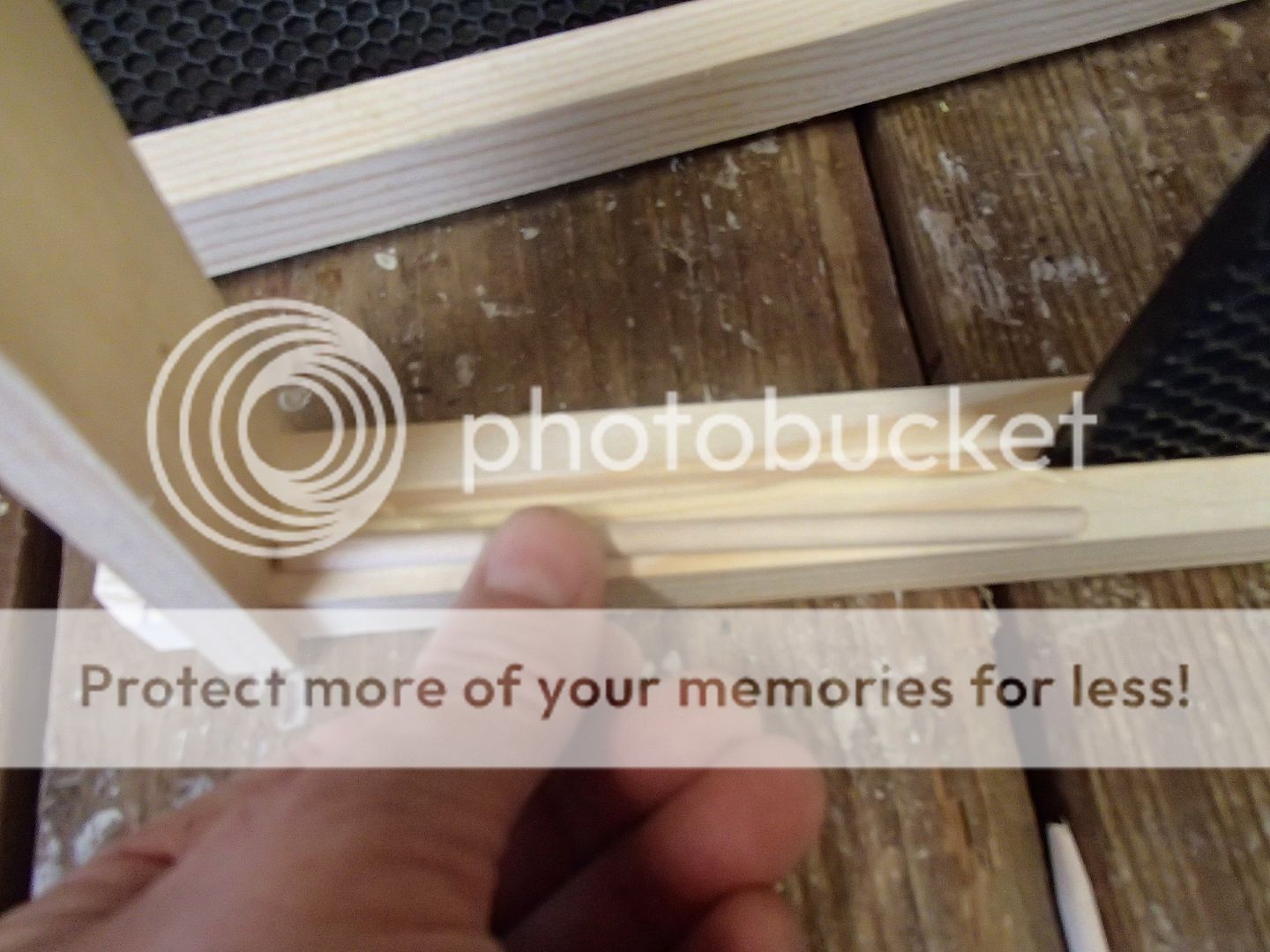 Here are all three sizes:
And the finished product:
1/3 sheet: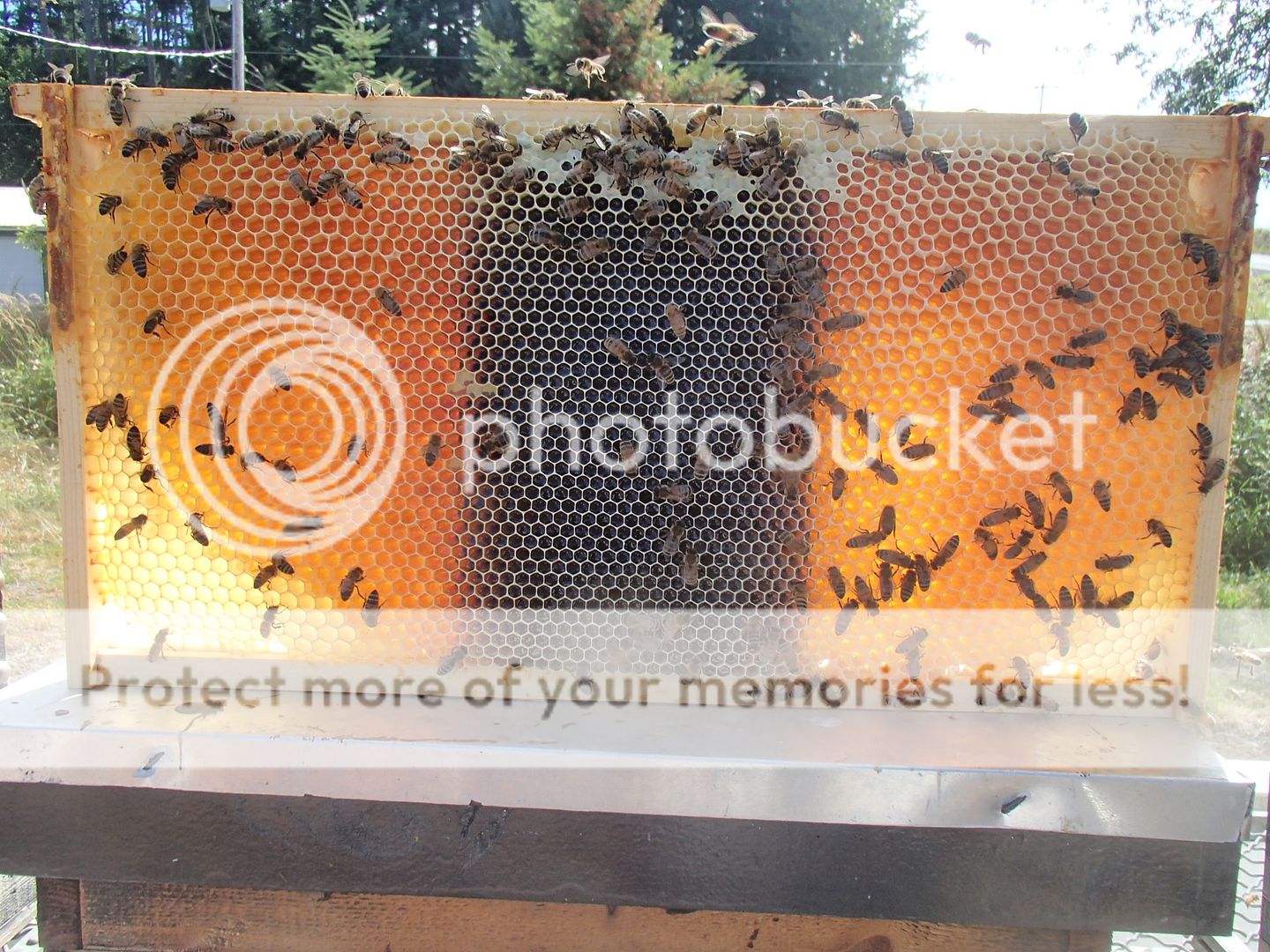 1/2 sheet:
2/3 sheet. (I use the other 1/3 in my mini frames for mating nucs)
2/3 sheet early spring in brood nest location:
I encourgage drone production for not only queen rearing, but for healthy well balanced colonies. But I want drone cells neat and orderly and reliable worker sized cells in the center of the frame. I get just what I want. You'll notice ther are no messy drone cells on the top or bottom of my frames.
It's easy to hack out drone comb with my hive tool. If I'm making up nucs and don't want the drone brood -out it comes. Check for mites of course! Or use for mite control as well:
Here are a few more photos. Heres a mid summer pic where as the drones hatch, they refill with honey. Look at all that feed right next to the brood. How do you think these bees will overwinter?
Below is a frame drawn in a hive with a newly mated 2014 queen. You'll notice the foundationless area is drawn in about 5.4 size. An colony with an overwintered queen would be drawing drone sized cells here. So keep in mind, it's not only the location and time of year that dictates your cell size, it is also the age of the queen.
Here's one with a 2012 queen heading the hive. Worker cells on the right, drone size on the left. Drone conb was near the entrances/front of the hive.
I did hundreds of these this year and only had a handfull that were not drawn perfectly.
This experiment not only gave me more organized and custom cell building with reliable worker sized cells in the center of the frames, it saved me a ton on foundation costs. It also allowed me to have partially foundationless comb in deep frames with
total
stability. Don't forget the nice neat piece of honeycomb on each side. A snap to cut out and perfectly uniform in size.
I notice I have no problems with backfilling this year in the broodcells. Yet the 2 bottom deeps are far heavier than usual and the bottom deep is not being abandoned. Why would they backfill brood cells when they have all this area available close by for honey storage? That's just exactly the way they've worked it. I've had not one swarm this year. Not one. I've got over 200 colonies.
My foundationless guides are food grade corn dog & caramel apple sticks from a restaurant supply.
I use the 2/3 sheet size in the bottom two deeps-brood nest area. 1/2 sheet above those and 1/3 sheet in the fourth deep on up if I'm looking for honeycomb production. If I want more drawn frames for next years broodnest area/checkerboarding/nuc production I use the 2/3 sheet for more worker sized cells.
This is how I package my honeycomb. Don't let your foodsaver crush it though. Seal it just before there is too much suction pressure.