Discussion Starter
·
#1
·
In an apartment. (Yesterday 6/07) Bees could have been there more that 1 year as there was no dark comb. But there must have been 100,000 bees. I know I must have vacuumed up over 40,000 the first day. For a long time I was sucking up around 3-4 bees every second at the entrance. Lord only know how many was sucked up on the comb itself. I had to add a 2nd high box with frames during the removal because there was so many bees in the first box on the beevac.
I cutout 11 or 12 mediuim frames of eggs, larva, brood (capped) with some honey and pollen. I could have done more cutout frames but I ran out of frames and I didn't want to save the drone brood. Ended up taking home about 1 and 1/4 5-gallon buckets of capped honey/bees/little brood, another 5 gallon bucket over 1/2 full of uncapped honey/nectar/drone brood/larva/pollen.
Went back today (6/08) to finish up removing the bees. Had all of the comb but too many bees. I had to have sucked up at least another 20,000 today. From the entrance, inside the closet, and up in the ceiling. I am sure that the cluster that I vacuumed up in the ceiling was over 5 pounds. That didn't include all of the other bees in the ceiling that were not in the cluster. So if the cluster was 6 pounds then the cluster was at least 18,000 bees by itself.
Hived the first days work this morning and todays work this evening. I can honestly say that there is not 1 square inch of frames or sides in this hived colony that is not covered with bees. That's 2 highs, 2 mediums, and another high. Bees were also all around the outside of the hive too.
Anyway, here is a link to the pics.....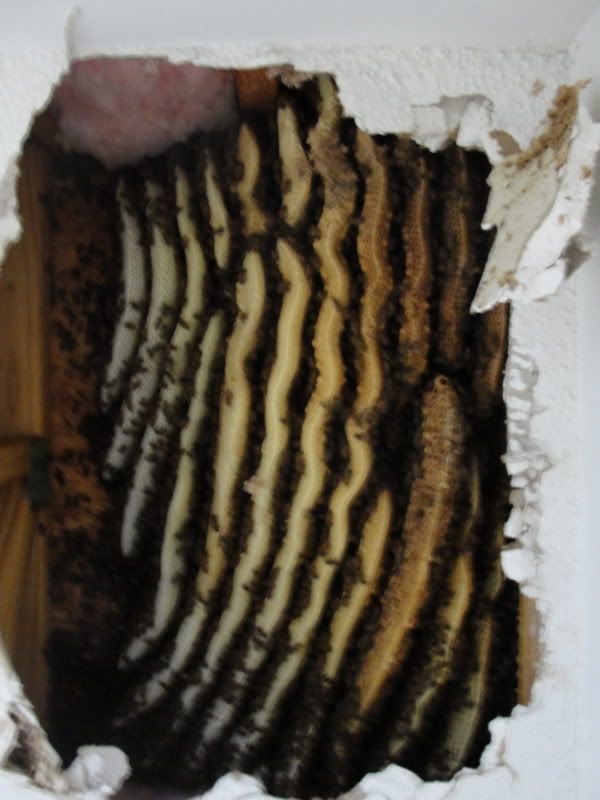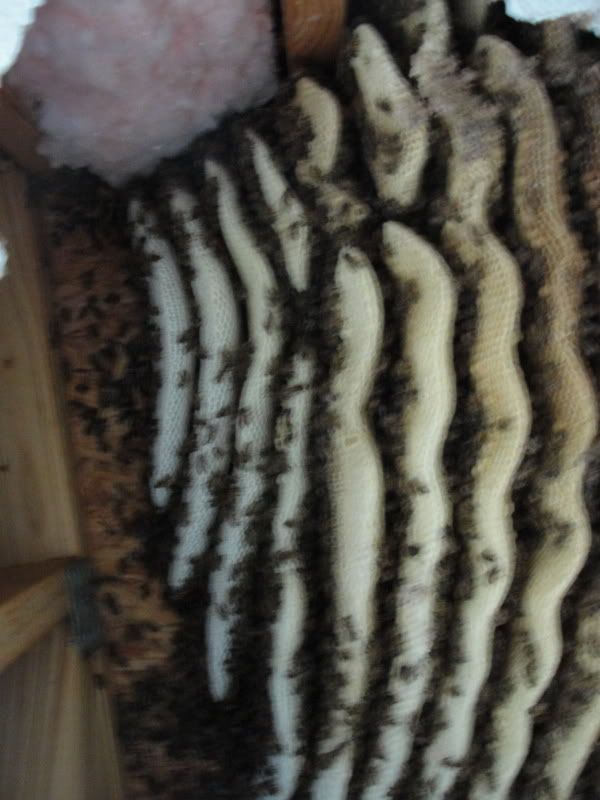 http://s146.photobucket.com/albums/r275/tngamecockfan/Grande View Apartments/?albumview=slideshow