Just thought I'd share where I am up to with hobby style traps.
This kind of stuff isnt going to suit the commercial guys, but I have the time for it, so here goes.
First up, a bit of credit where it is due. I got my MK I inspiration from this guy :
http://web.aanet.com.au/~Bees/beetletrap.html
I did the sheet metal thing very similar to that.
My MK II was I took to the bottom board with a 9" grinder instead, with 4 slots 2.5mm wide and made a routed out frame like my MK III.
Anyhow here is how MK III is coming along.
I use the $4 loaf pans from K Mart - this is thecheapest place I have found them - haha - you have to go to a few different stores as i cleaned my local one out
MK III has some tapered infeed ramps that head down the slide. Theory being that the bees can chase the beetles down the ramp and should be a bit easier to shove them down the slit.
One thing I really like that I read somewhere, is that the bees get used to / educated to chasing these pests down the hole,and they dont come back - not sure if this is reality, but its how i like to think about it.
I have just switched from using cooking oil in the traps to diatomaceous earth = bought a 5kg (11 pound) bag of the stuff and will see how it goes instead. I dont want chemicals in or around the hives either.
I have limited timber working tools, so have to do this in the mill unfortunately
The finished result on the tapered slots. Slots are 3.2mm wide (1/8 inch) and 175mm long, and a space of 25mm between the slots center to center pitch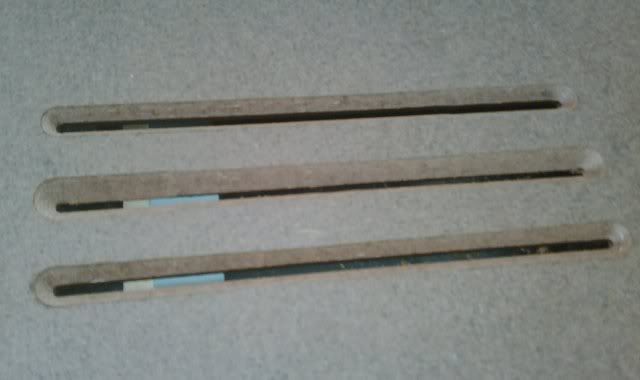 completed unit