Discussion Starter
·
#1
·
A modicum of information points to local Varroa free or Varroa minimized locations. The local absence or local hypo-virulence of the parasite may be a significant confounding factor in the reported success of TF prescriptions. I agree that hypo-virulence is part of the "virtuous cycle" that establishes when bees obtain a foothold against Varroa --- lower rates of horizontal transmission changes the infection dynamic to support the rapid selection of hypo-virulence in the population -- Dr. Seeley will likely publish the authoritative presentation of this dymanic.
Scotland maps Varroa free areas with precise granularity. There is an invasion front, and establishment on Isle of Lewes from commercially infected packages establishes there is no natural limit in the West. The researchers have found isolated populations often do not invariably lead to infection, as the rapid local extinction removes the infection. Local extinction is easier when the conditions are already marginal -- this is the hypothesis of Varroa free zones in Newfoundland and Thunder Bay, Ontario.
The original invasion in southern England was mapped with precision also. It demonstrates that some regions were tardy and resistant even in the initial invasion phase.
The US national mapping is limited in granularity. North Dakota is most careful.
A multi-year compendium map provides some detail for Kansas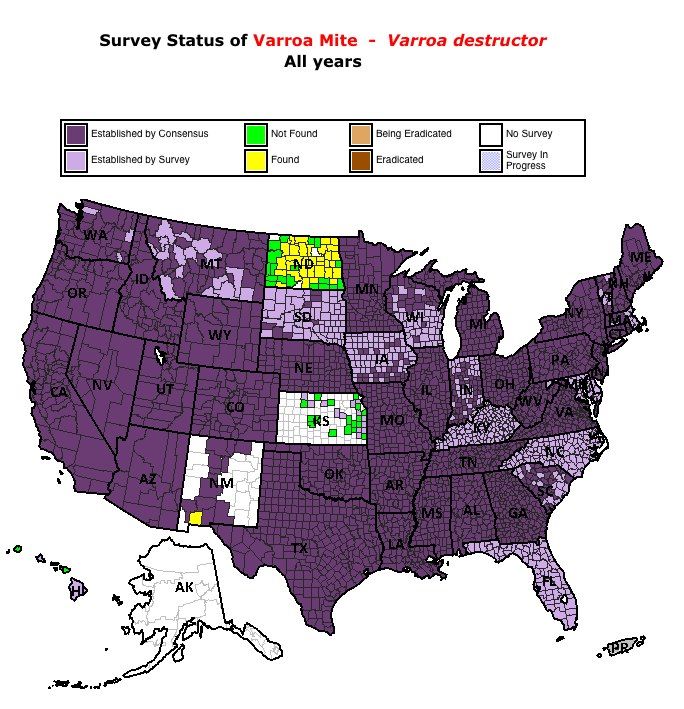 The maps suggest that the famous 100th parallel division of the high plains may encourage local extinction or local hypo-virulence in this area. It appears ND-SD-NE-KS have a checkerboard pattern of
Varroa density. Does the lack of diversity driven by intensive agriculture, or harsh winters account for this pattern?
The maps illustrate the nostrum -- all bee-keeping is local, and may support the idea that the reported success with TF by Nebraska keepers is an accident of geography and not the result a particular, transferable cultural practice.