Discussion Starter
·
#1
·
Got a swarm call today. Well got 4 of them. But, this was the last one of the evening. Guy called me this afternoon and said that he had talked with another swarm guy that would not come out because he had yellow jackets and not honey bee's. He was so thankful that I was willing to come out. Well when I got there at 9 he showed me the hole they went in.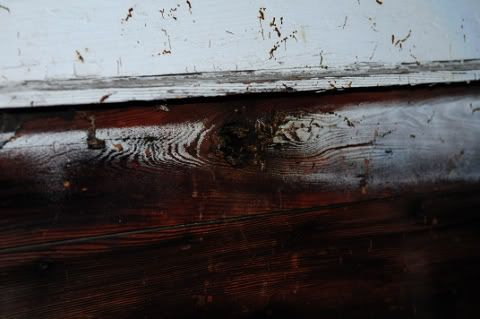 Then he took us into his basement to see the rest of the hive. Apparently 5 years ago he saw a cartoon like swarm fly by into the hole. He said it was just like watching a cartoon. Don't quite understand why he did not contact someone 5 years ago but, that is good for me. He said they came shooting out the hole and hit him in the year after year while he was cutting the lawn. He did not mind they never stung him. Odd gentleman.
I left it at his house. All my Bee vacuum boxes were full from the other swarms. So we are going back tomorrow. I am going to put a tube covering the hole on the outside to catch the ones that deciede to run. Then we will vac up and remove the inside ones layer by layer and put the comb with brood in them into frames and a deep. I figure this will be a 2-3 deep project. Will probably get a bit of honey also.