Discussion Starter
•
#1
•
Yesterday I was alerted to a swarm near my house, so I went to go walk them into my collection box:
Everything seemed to go well, but when I came back at 9:00 PM, in 58 degree weather, they were all on the outside of the box: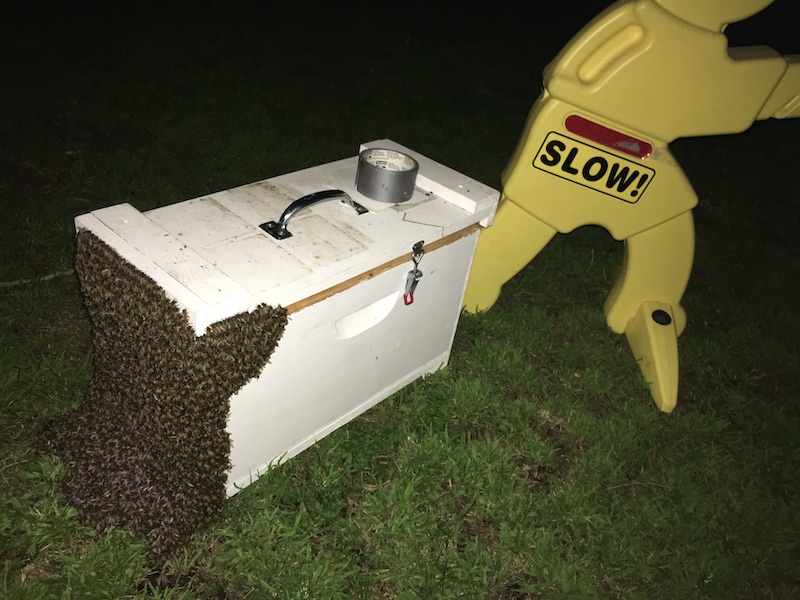 Someone on the infallible intarwebs told me that this is the sign of a queenless swarm, and that "ground swarms" often are queenless, so I suited up and scooped 95% of them into the box and took them home. I left the entrance plugged up with a rag, and I left a vent hole at the top.
This morning, thinking they were queenless, I was setting up to do a newspaper combine with an existing colony, and voila! I see Her Majesty! The rest of the bees were on the frames, but I didn't look for eggs or disgorged honey, because I wanted to get the box closed back up as soon as possible.
So I had a queen after all. I've turned my primary BeeCam over to look at them, and they seem to be doing pretty well:
https://www.youtube.com/user/IAmTheWaterbug/live
A bunch of them were clustered on the outside of the box, and still are, but I do see what looks like normal foraging behavior, so maybe they like the box after all.
But why didn't they like it last night?
Is there any truth to the rumor that swarms on the ground are often queenless, or that they behave any differently than a classic "hanging swarm?"