Discussion Starter
·
#1
·
So I just pulled a bunch of frames for a nuc today, and tomorrow or the next day after they calm down and realize they don't have a queen (or I realize they DO have the queen) I'm going to try the 'on the spot' method of queen-making. If the bees haven't already started a couple cells, of course.
So I was wondering if anyone with a lot of experience can explain about how old each of these larva are:
A. Eggs. Yeah, I got that part.
B. Yeah, its in there. Kinda dark
C.
D. I'm guessing this is pretty close to the 36 hour mark (still being fed royal jelly)
E. 4 days old?
F. End of 4th day?
G. 5th day?
H. 6th day?
I. 7th day? Looks like this one is pretty close to flipping and being capped.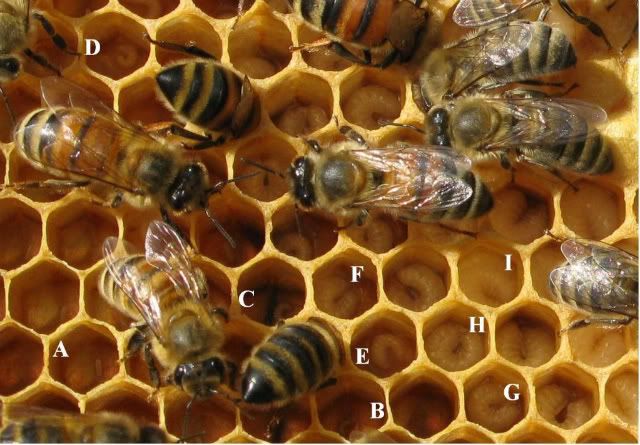 The most important part for me is to be able to recognize them younger than 36 hours. The rest is mostly curiosity.
Thanks!