Discussion Starter
·
#1
·
Yesterday we had our first major (for us) honey harvest. I started a hive last year and got it to survive the brutal winter. In May it swarmed and I caught the swarm. I also made a nuc with one of the swarm cells. So my one hive became three. In May I also added a package for my fourth. I was told not to expect much honey since I had a swarm but the great weather has surprised me with booming populations and 3 supers on each of the original and swarm hives. The nuc is now a deep and a medium and the package is 3 full mediums with a just added fourth.
I started doing foundationless for about half my frames this year since I was just learning and wanted to try a lot of stuff. I also decided that if I had honey to harvest, I would do crush and strain. Well yesterday was the day. I had done 4 frames a few weeks ago so kinda knew what to do on a small scale. 5 gallon buckets just made it a bunch quicker.
Here I am with my helper, a foreign exchange student chaperone from France. I am looking over the frames and deciding which ones could be harvested. Some were not full and a few were not capped so I left most of those. I did test some of the uncapped and found it to be around 18% so I took a lot of the frames with some uncapped cells. Many frames were simply perfect works of art from the bees.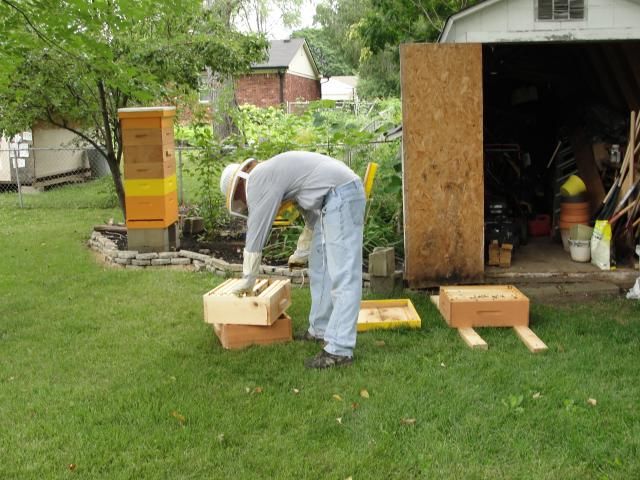 I would shake the frames in front of the hive if there were a lot of bees and then brush the stragglers. All that went great.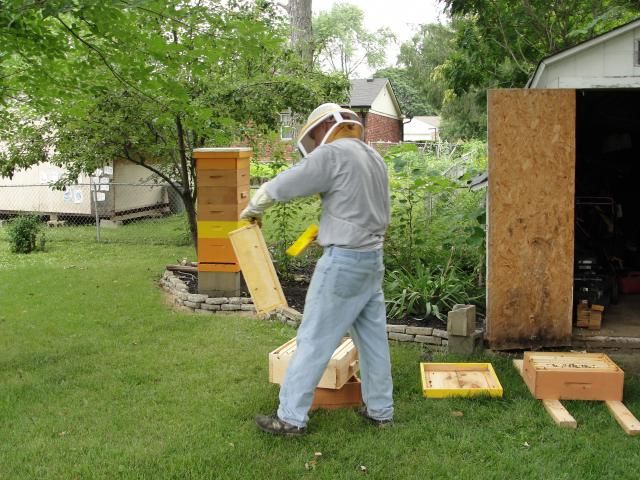 We then added them to a tote and then cut out the comb.