Discussion Starter
•
#1
•
Hi! I'm Clare. I'm a sophomore in college. I just recently decided to go into sustainable farming - a big change from my old plans, theatre. We're starting a community garden at my school, and I'm the intern. I've been given permission to start a beehive, mostly for pollination purposes, but also just to help increase the bee population, and maybe we'll get a little honey. I want to take the next year to research and prepare, then get bees in the spring. My plans at present are pretty rough - I'm going to the next local beekeeping meeting to try to find a mentor or two (apparently there are lots of really nice folks around here who love to teach about beekeeping), learn from them over the next year, attend bee school over the winter (and possibly build my own hive), and get bees in the spring. I'm thinking, maybe a top bar hive and probably a nuc to start with.
I've read the entire "How to start beekeeping" forum, and a lot of it doesn't make sense yet, but I'm working on it! I have one book on beekeeping ("The Beekeeper's Handbook"), and I'm going to get the library to order some more. I know a lot about bee society because I loved social insects as a young child and read about them a lot, but I'm not familiar with very much beekeeping terminology yet. I've seen several hives and seen a brief inspection and met a few beekeepers.
A little about me... I'm a theatre major, concentrating in educational and process theatre, but now with plans to go into community gardening, sustainable farming, something like that. Heck, maybe beekeeping! I'm looking at a minor in sociology/sustainability, but I'm not sure if I can fit that in over the next two years and still graduate on time. I'm an avid fishkeeper; I have dwarf puffers and bettas, and I'm working on hatching out some triops. I have a total of three tanks, going on four. I'm a geek - I love to read, I love Shakespeare and Tolkien, and I love learning way more about animals than I'll ever really need to know.
This is me on spring break a few days ago, learning about sustainable agriculture, playing with Lucy the dairy goat: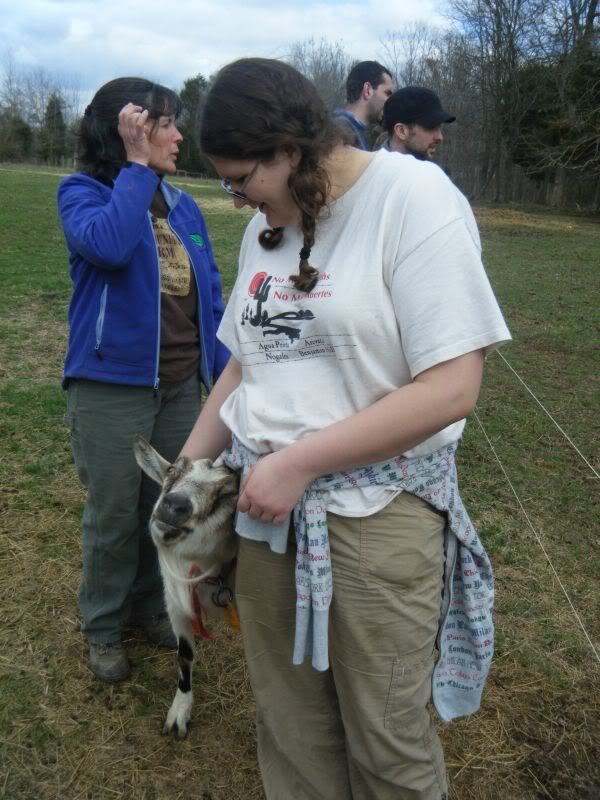 And this is the beehive that (and the beek who) got me into beekeeping, during the same spring break: