Discussion Starter
•
#1
•
Charlie B has for years been very jealous of my success in bait hive trapping. This bothers him so much he now annually challenges me to trapping competitions. To test our abilities we choose the hardest neighborhoods to trap in, as trapping is very easy in other nearby locals. This year we have two test sites in the middle of redwood forests, few nearby local hives with wet, dark and foggy conditions. The third site is also in a fog zone with lots of wind, but maybe more hives within range. As Charlie beat me last year, I might be too hurt if he beats me again to continue being his friend. And if I beat Charlie, he is apt to throw a hissy fit and stomp off. Please note that we place wood or decorations on our entries to make them more attractive to swarms. Also, we never waste time and effort strapping to trees, swarms will move in placed almost anywhere. Here are our competitors, click on them to enlarge:
My "Green Goblin" VS his "Lil Pinkie" in redwood forest at Charlie's cabin in Felton: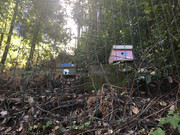 Charlies's white traps, "Tunitas Bruiser" and "Mountain Killer" VS my "Jumbo Jane", "Jumbo Jim" and "T111 Tim" with two of my hives on my cabin deck in Woodside:

Charlies "San Brutal" in San Bruno. If he wins here he must give swarm to site hostess with a frame exchange.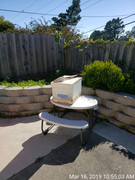 My entries "San Busted" and "Impaler" in San Bruno. I am trapping to start hives for the hostess of this site.