The old ladies are getting remarked as I break up their larger hives.
Those that mark with disks, what glue are you using? Someone suggested tightbond II, but it takes too long to dry and by the next day the disk comes off. I did some with fletching super glue last year that is pressure sensitive. It worked great , but seems a little harsh.
Any suggestions for a nontoxic glue that dries fast?
Although she is blond, she is out of a dark Carnie type. If daughters are this color, I'll call it my Buckskin Mt. line, LOL. Got to get horses in here somewhere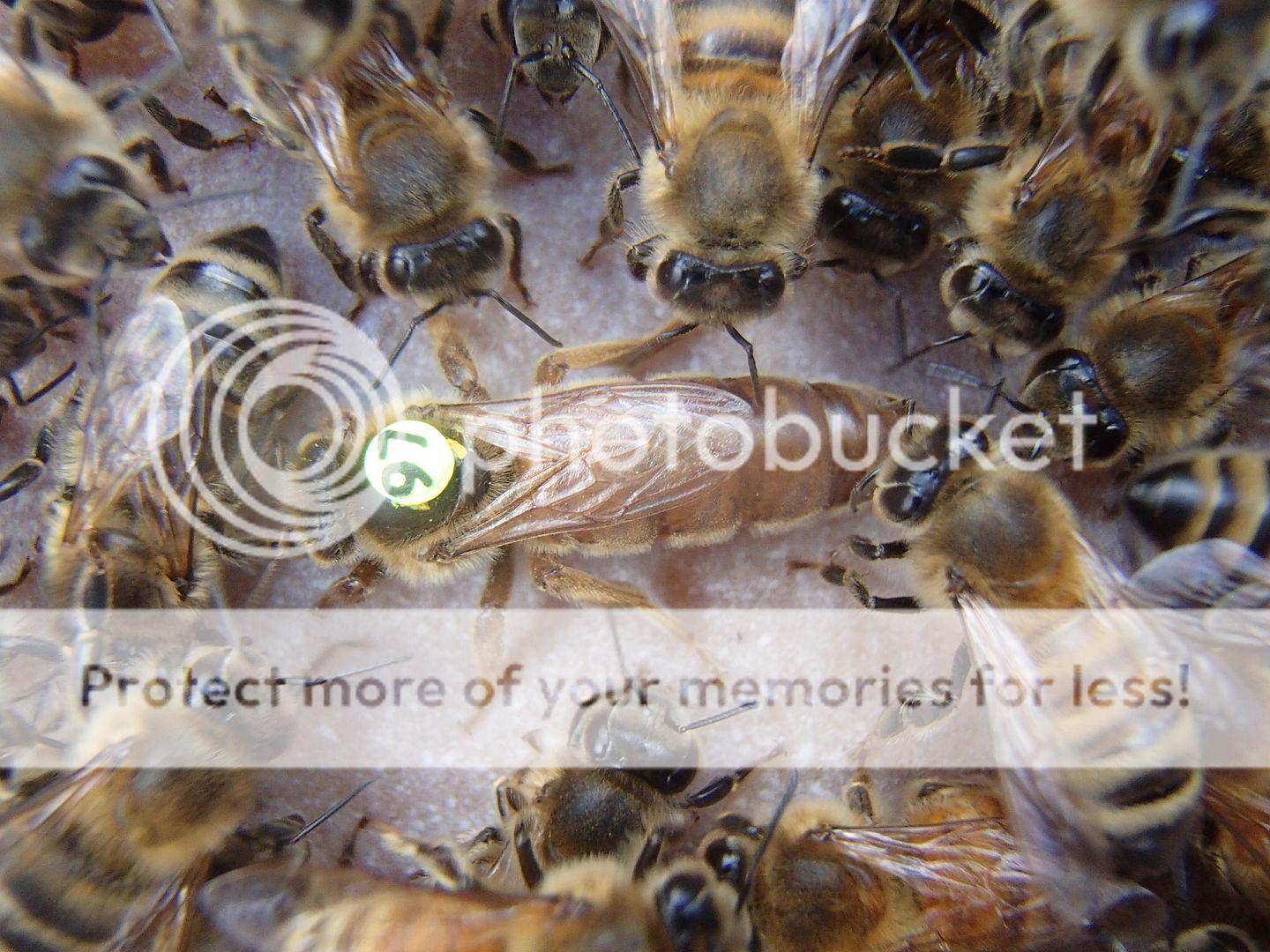 This is the same queen after overwintering the first time. After another winter she is not quite so shiney and new. She's darkened up a bit too. Little rough around the edges, but was still heading a healthy well populated four deep hive. She's now in a simulated or shook swarm in a new deep so I can find her to get some daughters.
I move the entire big hive several feet away and leave a new box in it's place with two frames of open brood, all adhearing young bees and the established queen.
Heres that box after about 1/2 hour after removing the big hive.
After about an hour:
ANd three hours. Most foragers have returned to this single deep:
After about 24 hours. They are taking up fortified 1:1 well and woofing on the small protein patty. I only give them a small one to start since they have little brood to feed.
I'll only have to feed them a few gallons of 1:1 until they get a good draw started on the frames. By the time the main flow starts they will once again be in 3 deeps if I let them get that big.
Starting to get the new frames drawn:
This deep must have had 10# of bees in it after 2 days. I gave them a second deep and moved the feeder to the top to relieve the congestion.
This is from another nuc. They are drawing the new design frame with 3/4 sheet of rite cell very nicely. No messes yet. I use the other 6 1/2" piece I cut off for my mating nuc frames.
I've got a lot of these 2012 queens I will be breaking up this year. It freshings up the old colony and gives me lots of nice newly drawn frames and lots of nucs. I did this last year with several hives and it was amazing to see them grab a gear in the production dept.