Discussion Starter
·
#1
·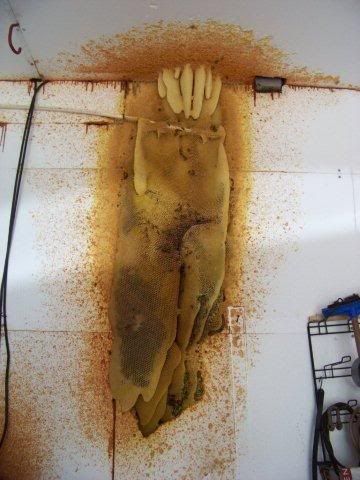 When they moved out they told the landlord that there were some bees living in the garage!
After cutting this baby out I started pulling chunks of honeycomb out of the big blue tub full of comb for the owner and then the elderly neighbor too. When I turned over the last piece for the neighbor there were bees hiding on the back side so I went to brush them off - one was the queen alive and well!
If not for sharing the honey she's be dead in the combs waiting to be rendered. :thumbsup:
There are no queens available here yet so it was risky to do the work this early in the season. Those split wire frames worked slick as can be, I need more because I filled all four of them with brood comb and I have another cut out scheduled.
The bees came through a one inch hole in a garage wall and filled the wall for five feet. Then chewed through the styrofoam to put on some additional living quarters! Technically I suppose this was not a cut out then as the cutting was already done, just a cut off and cut up.
Three cut outs in a half mile radius (no where near me just for the record) I love beeks who let their hives swarm! $ka-ching$