Discussion Starter
·
#1
·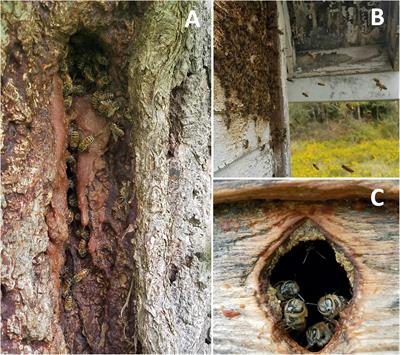 Studies of the ecoimmunology of feral organisms can provide valuable insight into how host–pathogen dynamics change as organisms transition from human-managed conditions back into the wild. Honey bees (Apis mellifera Linnaeus) offer an ideal system to investigate these questions as colonies of...

www.frontiersin.org
read for your self as I am taking a different spin on their data 😉
To be included in the study, all feral colonies needed to survive at least one winter in wild, unmanaged conditions. We checked each reported colony in early spring to corroborate activity and record overwintering survival (

Figure 1

). We paired each feral colony with one managed colony located within a seven-mile radius to control for site variation between colonies located in geographic areas with different landscapes and climates. A total of eight pairs of feral and managed colonies (

n

= 16 colonies) in 2017
Total survival of colonies over the 2017–2018 winter was 63% for both feral and managed colonies. For the 2018–2019 winter, survival was 47% and 38% for feral and managed colonies, respectively. Of the five feral colonies that survived the 2017–2018 winter, two also survived the 2018–2019 winter.
So spring 2017 they took 8 overwintered feral colonies and tracked them..
17/18 winter 37.5 % loses and they had 5
18/19, 2nd winter the 5 became 2, 60% loses
Spring 2018 they located 12 more overwintered feral colonies, those took 53% loses winter of 18/19
Added all together that's 49.44% loses on an overwintered feral hive round up to an even 50% iit works out well ... 8 becomes 4 in there 2nd winter and 2 in the 3rd..
Now if only 25 % of the swarms that find a home make their 1st winter (seeley) that means to be a wild stable pop they need to average 4 swarming events (including after swarms and swams that swarm )
that find a home
per overwintered hive to keep the population stable...
It seems what ever "magic" (besides swarming 2x a year and the prime swarm often throwing a swarm of its own and living a cavity that restricts brood rearing) is lost quickly in the outcross and the hive dies...
when the same group took feral based survivor stock and did a trial (COMB project
COMB
) there results were similar..63% loses and massive swarming in the second year